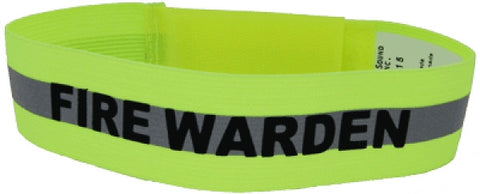 Fire Warden Arm Band - Bundle of 5
Highly visible, reflective yellow arm band shows other building occupants who the Fire Wardens are in an emergency.
Velcro fastening for ease of use and adjustable fit. Three sizes available.

-Identifies who is in charge

-Highly visible and reflective
-Velcro fastening
-100% Polyester
-10", 15", and 19" sizes available (10" small, 15" will fit most people, 19" will fit over a coat/jacket) 
Designed in Canada.
Please note this product is sold in bundles of 5 units.
---
We Also Recommend